1. So excited that the Prestonwood Student Choir CD is officially finished! Arranged and produced by my amazing husband!
2. We had our end-of-the-year choir party this week and they created these adorable (but actually, kind of creepy) pictures of our husbands on sticks for the photo booth area!
3. Since reading
The Circle Maker
, Carson and I created these prayer stones to help remind us to pray for specific things. It's been a great help to see them in this little mason jar in the bathroom and remember to talk to the Lord.
4. I have rediscovered
My Utmost for His Highest
, it has been amazing to see how applicable and full of truth each day has been. Love this devo!
5. I have recently become a
Brand Partner
with
Nerium International
! I not only love the product, but I love the business, I'm so excited to be a part of this great company!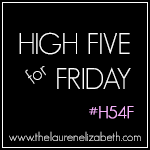 Thanks for stopping by! God bless!